"Louie"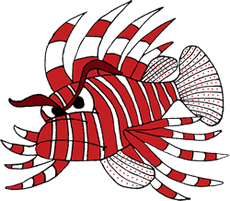 "Spike"
Welcome to our Kid's Corner! Meet our mascots Louie and Spike the lionfish. We realize not everyone is old enough to dive for lionfish. We feel it is important for our younger generation to learn about the importance of eliminating invasive predators from reefs. We want to make learning fun. When your kids read about the adventures of Louie and Spike, they will learn about lionfish and the importance of our mission. We hope that you will sign up your kids for our Kid's Club. Membership is only a $25/yr donation. Kids Club benefits include:
Autographed picture of Louie the Lionfish
Offical Kid's Club Membership Card
Direct Mail Birthday Card
Official Kid's Club Drawstring Bag that contains the following:

Louie the Lionfish Cup
Reef Medics Pencil
Ocean Life Eraser
Ocean Life Stickers
Fun Activity Sheets
We will have other fun activites and contests during the year along with a quarterly email newsletter. Please click the link below to join today!


Join in our annual coloring contest. Click Here to download a coloring sheet.